by Antonio Pio Iassogna Chef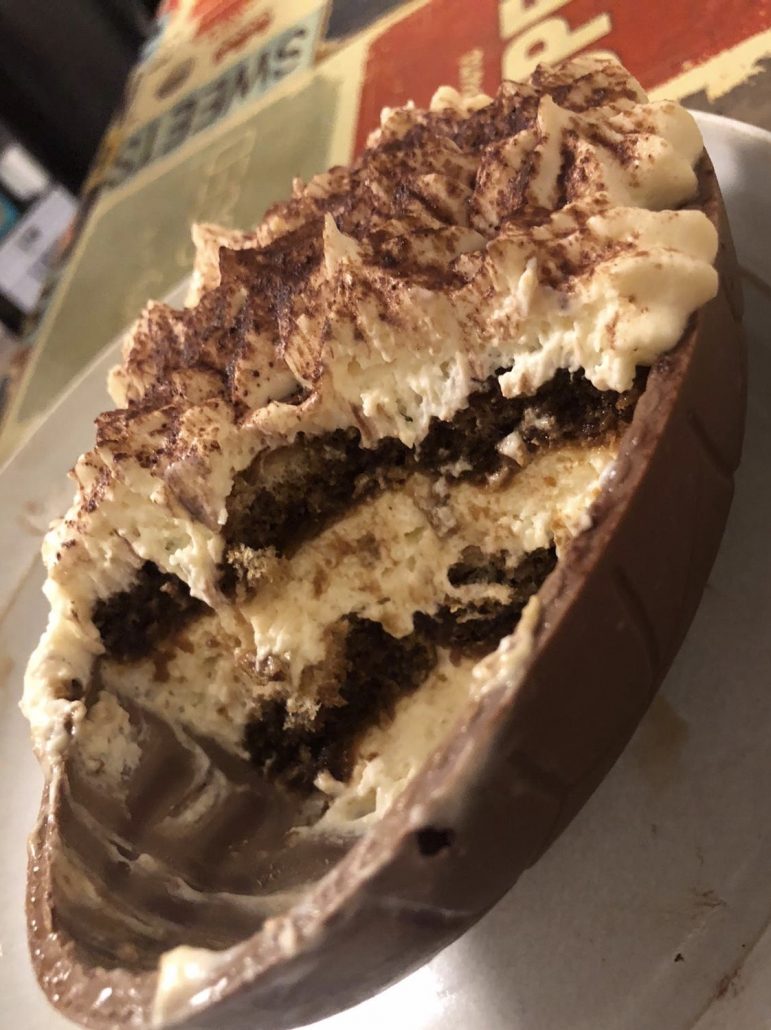 For the classic tiramisù: 1 easter egg Savoiardi fingers 220g of eggs 500g of mascarpone 100g of sugar 300g of coffe Cocoa powder that we will use for decoration q.b
Method:
Prepare 300 g of coffee with mocha, to be sweetened as desired. Now separate the yolks from the egg whites of 4 eggs. Pour the egg yolks into a bowl, add 50 g of sugar and work with electric whisk while the mixture will not be light and fluffy. Gradually add 500 g of mascarpone and continue to work until you get a thick and compact cream. After cleaning the whip well, assemble the albums to snow adding 50 g of sugar but by bit. Now add the egg whites to the mascarpone cream and gently mix. Fill the chocolate egg with mascarpone cream, dip savoiardi fingers on both sides in the coffee, now cold, and distribute them over the cream. Cover the savoiardi fingers with another level of mascarpone cream and so on… Place the tiramisu in the fridge for at least a couple of hours before serving.
http://www.ficuk.com/wp-content/uploads/2017/08/Logo_FIC.png
0
0
Enzo Oliveri
http://www.ficuk.com/wp-content/uploads/2017/08/Logo_FIC.png
Enzo Oliveri
2020-04-16 09:41:04
2020-04-16 09:41:07
Tiramisu Classic