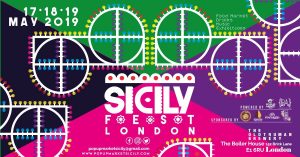 ✈Fri 17th May 2019: from 5.00pm to 10.00pm
✈Sat 18th May 2019: from 11.00am to 10.00pm
✈Sun 19th May 2019: from 11.00 am to 8.00 pm
FREE ENTRY
THE BOILER HOUSE // BRICK LANE // LONDON
—–
ITA // ★ SicilyFEST ★
✈Venerdì 17 Maggio 2019: dalle 5.00pm alle 10.00pm
✈Sabato 18 Maggio 2019: dalle 11.00am alle 10.00pm
✈Domenica 19 Maggio 2019: dalle 11.00am alle to 8.00pm
THE BOILER HOUSE // BRICK LANE // LONDRA
Sicily Fest is back again!
17, 18, 19 Maggio: tre giorni per vivere, gustare e e assaporare del buon cibo #madeinSicily in un'atmosfera rigorosamente made in Sud!

Made in Sicily, che torna per la quinta volta in una delle zone più belle di Londra, Brick Lane, nella storica Boiler House che ha già ospitato l'edizione 2018 e ha ospitato quasi 30000 visitatori.
SicilyFEST: un concentrato di mare, sole, Etna, per tre giorni a Londra!
✄WHAT IS SICILYFEST?
SicilyFEST è un market dedicato alla Sicilia specificamente ideato per dare ai Londinesi un assaggio del vero e autentico "made in Sicily" e per promuovere la tradizione enograstronomica della nostra isola.
Un mix perfetto di tradizione e innovazione, un evento pop-up imperdibile per tutti i foodie e gli appassionati di food&wine siciliano!
SicilyFEST, una festa per gli occhi e il palato progettata e realizzata da PopUpMarketSicily e P&A Events.
INFO:
SICILY FEST BY POPUPMARKETSICILY & P&A EVENTS
17|18|19 MAGGIO 2019 | Free Entry
BOILER HOUSE || BRICK LANE /LONDRA
CONTACT US:
——————————————
SicilyFEST is once again back to London for its 5th edition on 17/18/19 May 2019: three days to celebrate Sicily and its deliciously good products at The Boiler House in Brick Lane, right in the heart of London!
SicilyFEST started out as a celebration of everything Sicilian 5 years ago.
5 years of flights to and from London, no matter the weather, a huge goal in our minds and a great dedication in our suitcase.
5 years of laughters, arancini, cannoli, passionate traders and great authentic Sicilian food.
SicilyFEST 2018 was a huge success: almost 30000 visitors and a full sold out. Our visitors' smiles, love and appreciation, their pictures and positive feedback on social media are the reason we have been doing this for (already!) four editions and we intend to continue and improve.
On May 2019 The Boiler House on Brick Lane is ready – again – to host a colourful, super tasty and mouth-watering invasion of odours and tastes from the beautiful peal of the Mediterranean.
And SicilyFESY is ready to "conquer" you – and your taste buds – with a wide selection of arancini, wine, cannoli, cheese, pasta and many many more surprises!
And you, are you ready to be tantalised by the warm and tempting atmosphere of our island?
Come and have a unique experience of Sicily, condensed in just three days in London!
✄WHAT IS SICILYFEST?
SicilyFEST is a Sicilian-themed event specifically designed to give Londoners access to real and authentic "Made in Sicily" and to promote Sicilian food&wine tradition and culture..
A perfect mix of tradition and innovation, a pop-up event created to deliver a unique and exciting experience to the London foodie
SicilyFEST a tasty and visual feast, brought to you by Pop Up Market Sicily and P&A Events.
INFO:
SICILY FEST BY POPUPMARKETSICILY & P&A EVENTS
17|18|19 MAY 2019 | Free Entry
BOILER HOUSE || BRICK LANE / LONDON
CONTACT US:
———————————————-
http://www.ficuk.com/wp-content/uploads/2017/08/Logo_FIC.png
0
0
Enzo Oliveri
http://www.ficuk.com/wp-content/uploads/2017/08/Logo_FIC.png
Enzo Oliveri
2019-04-08 21:13:42
2020-11-04 17:07:13
SICILY FEST MAY 2019